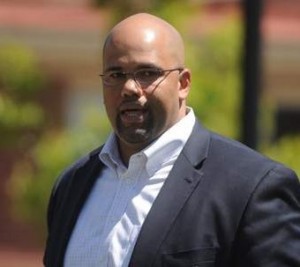 Associate Professor of History
B.A., 1994, East Stroudsburg University
M.A., 1998, East Stroudsburg University
M.Litt., 2001, University of Edinburgh
Dr. Phil., 2006, University of Kassel
Biography
Dr. Christopher Brooks' experience includes working with multi-national organizations in the legal and business industries in Legal English and Business English training, translating and negotiating skills, as well as considerable experience in academia. Dr. Brooks is an associate professor of history at East Stroudsburg University of Pennsylvania. There, serves as the university's pre-law advisor and teaches Legal, Constitutional, Transatlantic and Intellectual History, among a few other subjects. With research and writing that crosses the disciplines of history, law, business and politics, he also advises widely on German and German-American matters. In fact, while living and studying in the EU, most of Dr. Brooks' work was for Germany-based organizations, offering not only Legal English and Business English language and negotiation training but also translations for international law firms and companies, academia and the judiciary. He has also worked for a number of other EU and non-EU organizations on legal and business issues.
Dr. Brooks completed a dual BA (history and philosophy) and an MA (American Legal History) at East Stroudsburg University of Pennsylvania. He then performed post-graduate work at Edinburgh University (Scotland), completing his doctoral work at the University of Kassel (Germany) in legal and constitutional history under Dr. Horst Dippel. There he also volunteered to work with Dr. Dippel as an editor and researcher for his Rise of Modern Constitutionalism project.
His most recent book, co-authored with Dr. Nicole Elert (PwC) and entitled _German Employment Law: 618 Questions Frequently Asked by Foreigners_, was published by DeGruyter in January 2014. Brooks and Elert are under contract to start on a second book that is set for completion in late 2015.
Dr. Brooks is looking forward to the publication of his recently accepted essay on the history of the Transatlantic relationship he's contracted to write for Scribner's. That publication, in the last of the editing stages, should be available by the end of 2015.
When the process began in 2013, Dr. Brooks immediately began taking a keen interest in the debate over the Transatlantic Trade and Investment Partnership (TTIP) negotiations. He has presented on the topic several times already, but is most interested in further developing his work on the similarities and differences vis–à–vis US and European food culture that he will present to the International Cooperative Association in Paris at their May 2015 meeting.
Finally, Dr. Brooks will be using a sabbatical to research and write on the experiences non-military American workers posted to work in Germany had during the 1990s, post Cold War troop draw down there.
Dr. Christopher Brooks ESU Scholar Talks
Selected Publications
Elert, Nicole, and Christopher T. Brooks. German employment law: 618 questions frequently asked by foreigners. Berlin: De Gruyter, 2014.
"Thinking Transatlantic" (with Johan Eliasson), Atlanta Expat Magazine 2014, no 4 01/2014.
"It's in U.S. Interest to Mend Relationship with Berlin," The Morning Call, July 16, 2014.
"Region Would Benefit from New European Trade Pact" (with Johan Eliasson), The Morning Call, December 3, 2013.
"Nominate Leah Ward Sears to the High Court: The Retired Chief Justice of Georgia Politically Savvy Choice for Obama for Several Reasons, Including Conservative Leanings," The National Law Journal (May 2010).